Gecko Fillet Welding Carriage
Gecko is a portable fillet welder designed to produce consistent high-quality welds. Constant and repeatable travel speed enables weld bead geometry that is exact to the required specifications. Gecko HS with increased horizontal speed is suitable for both speed welding and plasma cutting.
Tag: PROMOTECH
Category: TRACTORS WELDING MACHINE
Description
Primary features and benefits:
 Compact, lightweight design with durable aluminum cast housing
Convenient Power Supply 115–230 V, 50–60 Hz or 42 V, 50–60 Hz
Positive magnetic traction permits out of position use
Magnet on/off lever permits easy set up and adjustment on work piece
Maintenance free 4-wheel drive with worm gear reduction
Heat resistant silicone wheels
Quick clamping Torch Holder mechanism for different types of MIG/MAG torches with diameters of 16-22 mm (5/8" – 7/8"); optionally up to 35 mm (1-3/8")
Precise torch adjustment with screw drive cross slide
Multifunctional LED display – presetting of travel speed, error codes information
---
Consistent heat input reduces distortion
Reduced wasted filler metal – eliminates over welding
Automatic arc on/off system initiates welding with travel, simultaneously
Capable of carrying and controlling 2 torches
Self-guiding roller arms eliminate the need for track
Multi-surface guiding with user-friendly adjustment of tractor position
Improves working environment – removes operator from heat and fumes
Plasma cutting possible
Closed loop speed control system stabilizes travel speed to reduce weld defects and costly rework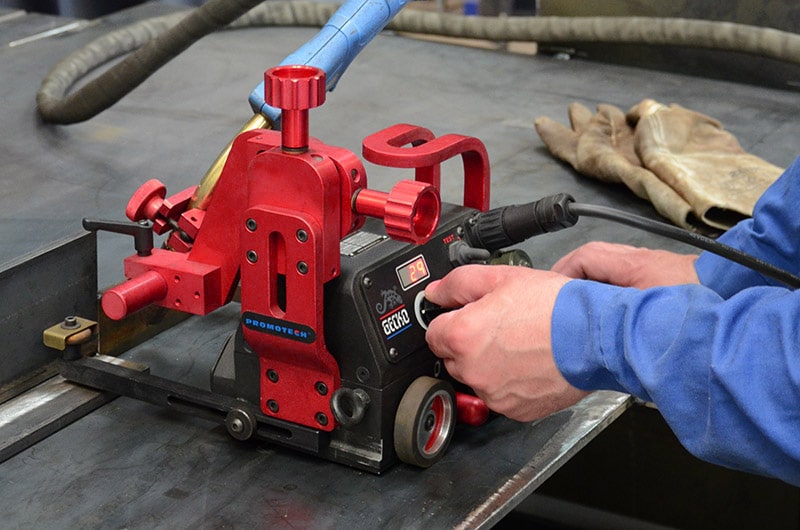 Multifunctional led display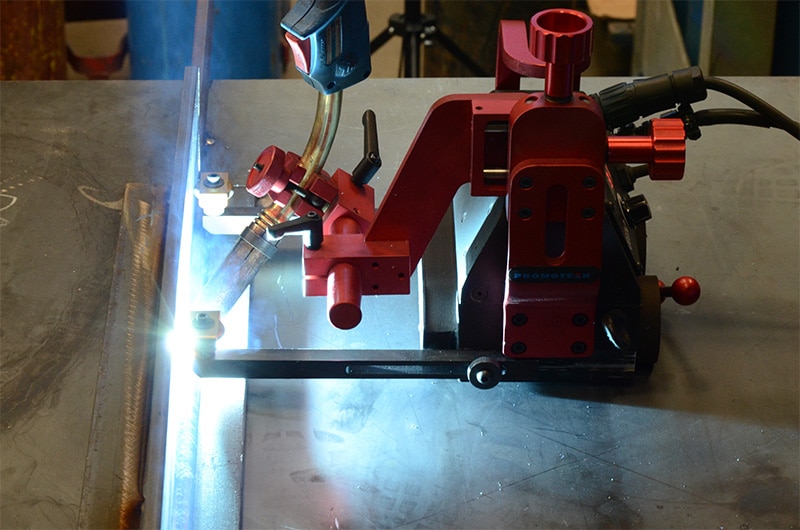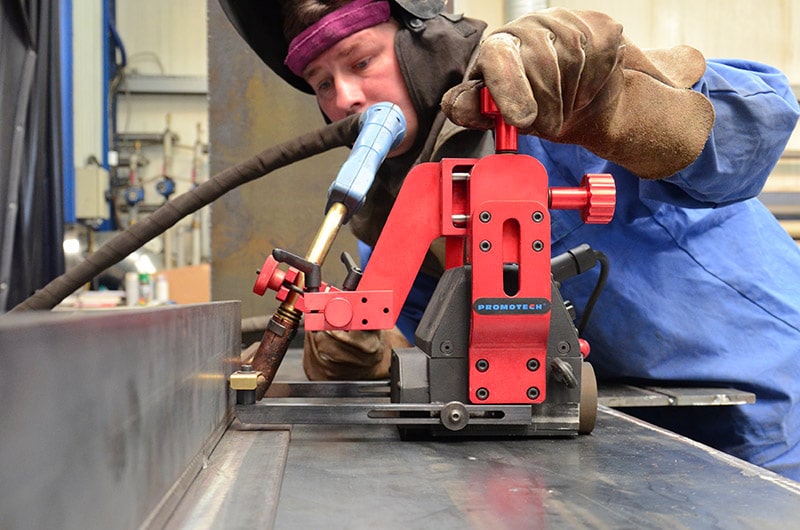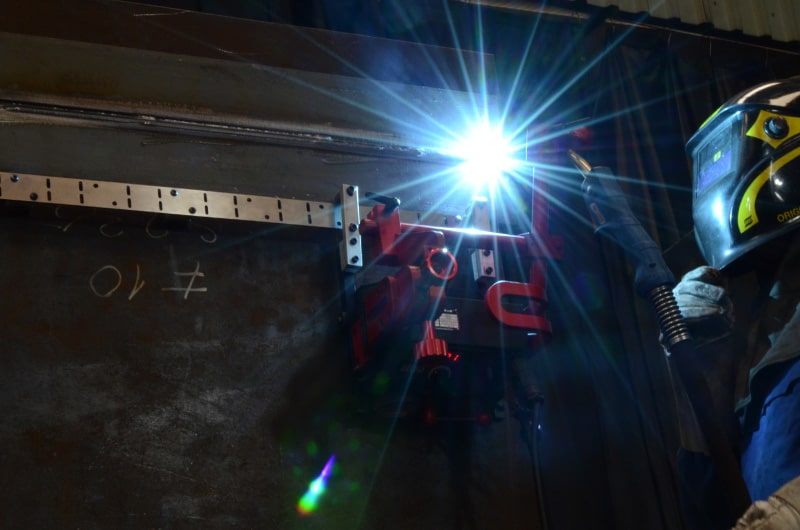 Welding in vertical positions
Welding applications
Trailer manufacturing
Truck tanks
Oil tanks
Water storage tanks
Transformers
Shipyards
Any application demanding a long, continuous fillet weld
Gecko versions
GECKO HS (High Speed) New special version for specific applications is available now GECKO HS (High Speed) with increased horizontal speed up to 220 cm/min (86.6 in/min) is suitable for both speed welding and plasma cutting.Lots of optional accessories make Gecko fit for a specific use including cutting and welding of stainless steel constructions.
System build
It features 4-wheel drive system with magnetic traction and a control loop feedback mechanism which provides speed stabilization in all welding positions.
---
Drive unit with control panel
Magnetic adhesion release lever
Weld contact / Arc ignition socket
Power supply coupling
Adjustable guide arm
Quick clamp torch holder
Main power switch (0/I)
Cross slide assembly
The newest improved guide arms family makes a proper welding tractor positioning even easier.
7 different guide types are dedicated to various welding applications and positions
include a number of fixing grooves for your convenience
enable simpler, easier and more consistent adjustment of how guide arms stick out
secure proper tilting of the carriage into a direction of its movement
maintain a permanent contact with the workpiece
allow either interval or continuous guide arms adjustment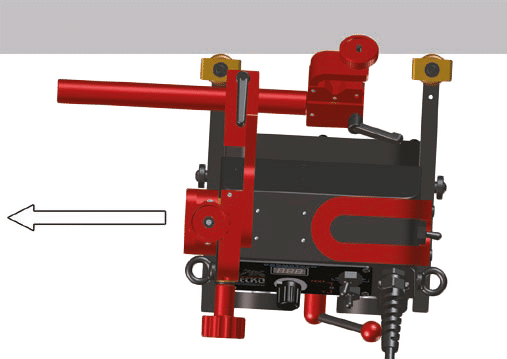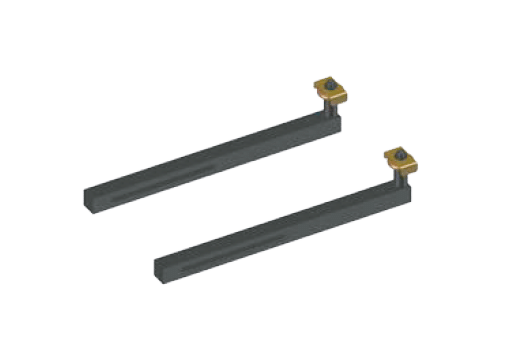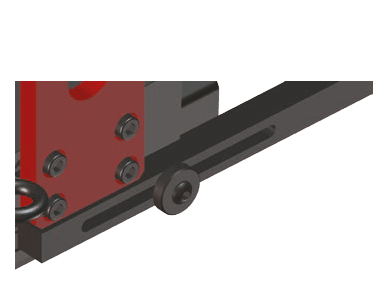 Continuous adjustment of a degree how much the guide arms stick out.
Each new guide arm has got a number of indented grooves only on one side. All types of guide arms are available in pairs of 2 pcs: right and left.
Interval adjustment of a degree how much the guide arms stick out
Gecko flexible track
Depending on sort of fixing units in use with flexible trackway, Gecko and Gecko HS welding tractors are suitable for applications with carbon steel, stainless steel and aluminum.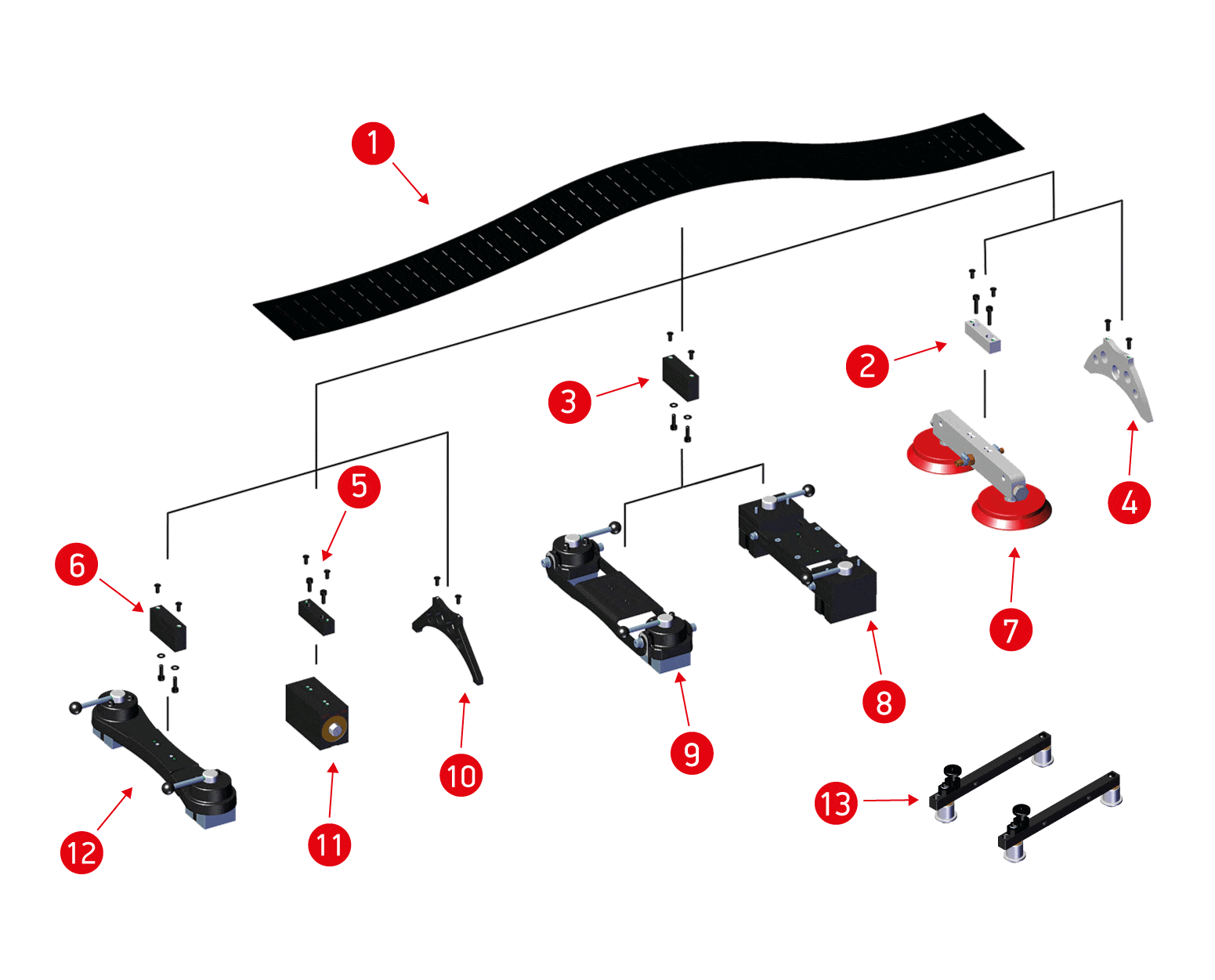 1. PRW-0466-71-00-00-0
Flexible trackway length 1.88 m (6.1 ft).
Minimum curvature radius of 1.25 m (4.1 ft)
2. DYS-0466-71-04-00-0
Bracket for vacuum modular units for flexible trackway
3. DYS-0466-71-05-00-0
Bracket for magnetic units for flexible trackway
4.WSP-0466-71-03-00-0
Aluminum track support for flexible trackway
5. DYS-0466-71-07-00-0
Bracket for magnetic narrow unit for flexible trackway
6.DYS-0466-71-05-00-0
Bracket for magnetic units for flexible trackway
7. MST-0541-10-02-00-0
Vacuum modular unit
8. ZSP-0523-19-00-00-0
Magnetic spacing-adjustable unit
9. ZSP-0475-85-00-00-0
Magnetic pivoting unit
10. WSP-0466-71-06-00-0
Steel track support for flexible trackway
11.PDS-0582-10-00-02-0
Magnetic narrow unit with hexagon
12.ZSP-0475-44-00-00-0
Magnetic unit
13. ZST-0466-69-00-00-0
Trackway following guide arms (set of 2 pcs)
Brochures
Make sure you are familiar with Gecko / Gecko HS | Fillet Welding Carriage brochure including technical data and detailed information about this product. Should you have any further questions we encourage you to send us an enquiry.